Defining the menu tree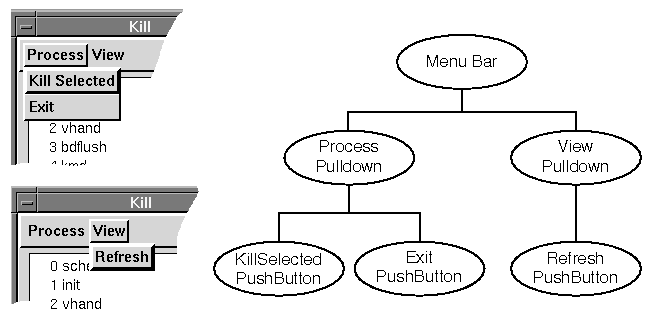 Next, menus are placed on the form.
In SCO Visual Tcl, creating menus is as simple as translating the menu widget tree into SCO Visual Tcl code.
First, create a MenuBar widget which will be the parent of the pulldown menus (Process and View).
Next, define the menu items (children) of the pulldown menus.
The Process pulldown menu has two children -- the Kill Selected and Exit push buttons.

The View pulldown menu has only one child -- the Refresh push button.
The CreateMenu procedure defines these menus.
---
© 2004 The SCO Group, Inc. All rights reserved.
UnixWare 7 Release 7.1.4 - 27 April 2004